14 Awesome AI Tools for Teachers
Prepare to go down the proverbial rabbit hole as we discuss our favorite ai tools for teachers.
I'm not saying the AI will completely change the way you reach your students. It's a tool, just like anything else. Good teaching is still good teaching.
But I am saying that the learning process will include machine learning, and you need to make sure you are also ready for new learning environments.
You may not like it, but new ways are always needed to meet student needs. As many attention spans shrink in our classrooms, it's time to consider the use of AI to help create a more robust learning experience for our students.
I'm not saying we'll be living in a Ready Player One environment anytime soon, but virtual reality and the application of AI will eventually blur real life and the online world.
Since we aren't in the Matrix yet, let's dive in.
AI Tools for Teachers (Free & Paid)
Free Resources
I recently discovered this AI tool while listening to the podcast My First Million. This is a free tool, in order to utilize it you'll need to create an account, otherwise you only get to see a few things before it cuts you off.
When you get in though, you can clearly see the potential of AI to impact the future of education, and the entire education sector. Just a few of the possibilities that already exist include:
conversations with historical figures
conversations with fictional characters
simulations
games
psychologist
life coach
story makers
creative writing
creating images
learning different languages
religions
and plenty more
This is one of my favorite ai tools for teachers. I used this tool personally to ask questions about Midwest Teachers Institute. Understand that none of these were real life individuals.
So how does it work? I'll try to put this into terms that anyone can understand. To summarize, the AI algorithms chat in a back and forth dialogue, based on all the information that can be attained online, then simulates the tone and content it believes would come from that individual.
To be honest, I didn't go too deep into the conversations. I did it the first time I found the site, and was impressed with the immediate feedback given, something that would play well as an educational tool.
Barack Obama was the first up, figured I'd start with the former President. I wasn't signed up yet through my MTI gmail yet, so you'll see my question asked by "guest" instead of M_T_I.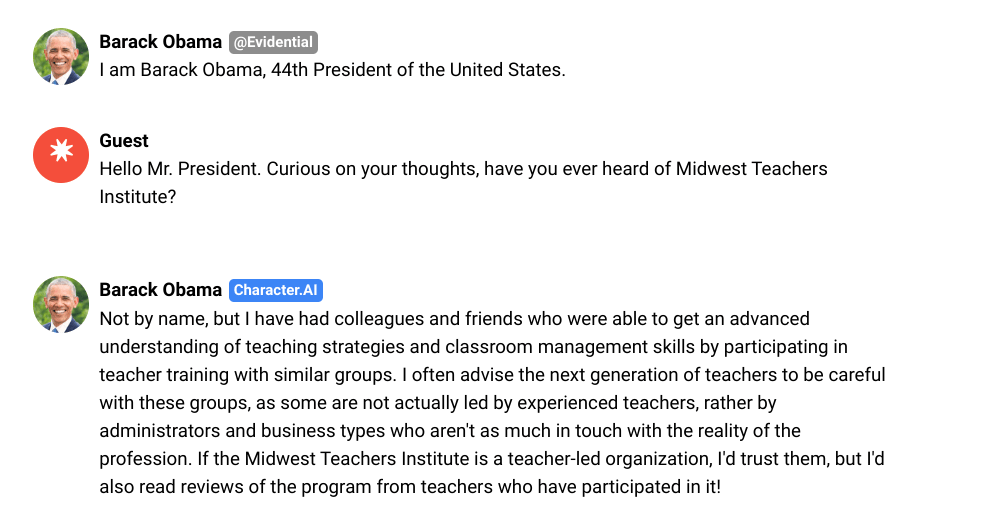 I wasn't surprised that he hadn't heard of MTI yet, he's been busy with other administrative tasks through his career.
And yet he understood the need for teacher training in companies just like ours. No worries there, we're a group of classroom teachers (and a few administrators) who want to provide teachers a quality product.
Then I asked Albert Einstein a question about teachers getting a master's degree.
Turns out Albert is a big believer in professional learning for educators. I couldn't leave it at that, so I asked him a follow up question.

This one revolved around tuition costs, and apparently Einstein also believes it's a waste of money to spend more than you need to.
Not to be left out, I asked Shakespeare about taking graduate classes. Turns out he's a believer in higher education institutions and continuing to learn.
I went on to ask Sigmund Freud, Tim Cook, and Captain America their thoughts. Each added their own spin on the topics asked, and answered in different ways.
Overall, this is a really amazing use of ai tool for teachers, and you can assume with more adaptive learning this site will continue to grow to provide other additional help.
A new way students can explore artistic styles, stable diffusion is probably the most popular application forms for using AI. Simply type what you want to see and it appears.
For this I used the following prompt: "a classroom teacher using a computer in renaissance style art." As you can see, it combined all of this into a quick panel of 4 different images.
Although this may not lead to deep learning on the topic, it doesn't mean it doesn't qualify as a great ai tool for teachers and can't be used at different levels of the education system.
Sometimes, believe it or not, it's okay for something to just be fun for students to do.
One of the more exceptional AI tools for teachers I've encountered in this research has been Brainly. Students and adults work together to help each other better understand their problems. And the thing that I like is that it isn't specific to one subject, unlike most products. It can help with everything from social studies to math, and it even offers similar questions related to the questions they asked.
Think of it as a social learning network.
AI is used to sort languages and eliminate spam, which would take away from the quality of education provided.
Paid Resources
Our next look at different AI content technologies takes us to MyHeritage, which created the AI Time Machine.
Overall the process was pretty simple, you select 10-25 selfies to give the computer a good idea what you look like. This was ironically one of the hardest parts for me, since I tend to always have others in the picture whenever possible.
Less of an issue for current high school or middle school students.
Now this one does cost money to join. There's a free month, then it's $99 a year.
Probably not something most educational institutions will splurge for at this point, but you could probably use the free trial to supplement your other learning materials.
The emergence of artificial intelligence is really impacting the writing that is done all over the world. It's mostly in the business world right now, but it has already started filtering down into k-12 classrooms.
I believe they say it best (but not simply) on their site, they use their "Natural Language Processing playground by using our own AI models, trained on real literature."
In terms more people can understand, it allows you to produce stories without all the tedious tasks involved with writing a story. You can choose the style of writing you want, model your stories after those of famous authors, or choose a theme for your story. You can even use it to create an entire world for your story.
With different pricing tiers, there are plenty of options out there based on students' needs. There is a limited option for free, which of course limits what you can do.
Dragon Education Solutions
This speech recognition software provided by Dragon allows you to dictate and have your content typed with 99% accuracy.
When it comes to implementation of AI, one of the better case studies is leveling the field for students'ability to show what they know. In this case, language learners, special needs students, and all other students will be spending less time on typing and more on showing what they know.
There's even a free on-demand webinar to show educators how using Dragon can help propel student performance.
Built to help teachers save time on grading, while providing better results on student progress.
Although I haven't used this product, I do love the demo that shows teachers grading and providing feedback for students that was grouped by similar answers (instead of grading person by person through each class).
Imagine how much time you'd save on these time-consuming tasks! According to Gradescope, this works on paper-based exams as well as online homework.
It especially looks like it would be beneficial to math teachers and other numbers based courses.
Ranging in price from $1 to $3 per student, this is one of the more expensive sites in the artificial intelligence market.
Looking to help students who struggle with math? You gotta take a look at StepWise. They can measure student's needs for you with smart content that provides students with the ability to practice while still getting the correct answer.
Assigning homework normally means seeing how the students did the night before as you go through multiple questions. Like many programs, the benefits of artificial intelligence include the ability to see how questions are answered, as well as providing immediate feedback (so they are practicing and correcting at the same time).
The use of such tools, and the data analytics from their work, allow teachers to spend time where students need it most.
You have to love the first thing this company says. 90% improvement in math scores in 6 months.
Private tutoring provided online by a dedicated tutor assigned to them specifically. The AI technology is used to provide curriculum designed to fill student's knowledge gaps in real time.
The combination of AI and human interaction sets this apart from other education tools.
Phone Apps
Dawn AI
Transform your selfies, or use it to create crazy high quality images by typing in a prompt for what you want to see.
Lensa AI
Similar to Dawn AI, this app allows users to provide photos and get multiple images back in different styles. In recent years this app has climbed the rankings pretty quickly.
Knowji
A vocabulary app, cartoons are used to create a learner-centered education for students to actually remember the words that they learn.
Elsa Speak
Relying on voice recognition and smart data gathering, Elsa teaches people how to pronounce English words used in the United States.
Socratic
One of the better AI-based products designed to help students with their homework, across a wide variety of subjects. By simply taking an image of the problem, students are provided with a video explanation, a diagrammed explanation, a definition, and other questions related to it.
Final thoughts
Things are changing rapidly, and it's up to us as educators to keep up with how student interaction with their learning has changed.
Educational best practices will always stay the same, but the tools we use to achieve our results are evolving. To stay relevant, we have to stay up on educational technology for our own classroom.
Learning plans haven't changed, but the paths have.
If you have other friends and family who could benefit from this information, please share it with them. Education is not a zero sum game, we can all win by sharing the educational software we find.
Did I miss any great AI tools for teachers? Send me feedback, I'm sure there are plenty of new tools out there that aren't on this list. Message me on Facebook (Midwest Teachers Institute) or Instagram (MTI_4u), I'd love to hear what else you've found.
If you'd like to explore graduate classes on this (or any other) topic, check out our lists of available classes and degrees.